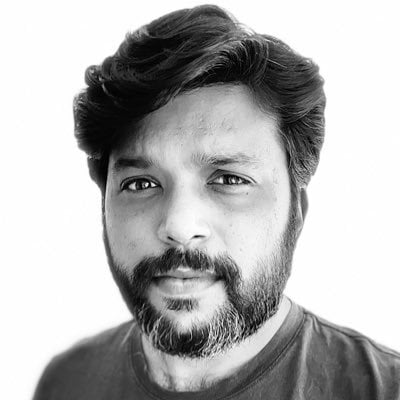 'I shoot for the common man who wants to see and feel a story from a place where he can't be present himself."
Danish Siddiqui (1983-2021)
Danish Siddiqui was a two-time Pulitzer Prize-winning photojournalist who headed the Reuters multimedia team in India as its Chief Photographer.
Before his foray into photojournalism, Danish was a television correspondent with India's leading news networks. 
As a photojournalist, Danish covered several important stories in Asia, the Middle East, and Europe. His works included covering the wars in Afghanistan and Iraq, the COVID-19 pandemic in India, Indian citizenship law protests, Sri Lanka Easter bombing victims,  Rohingya refugees crisis, Hong Kong protests, Nepal earthquakes, Mass Games in North Korea, and living conditions of asylum seekers in Switzerland.
Danish's work got widely published in scores of magazines, newspapers, slideshows, and galleries – including National Geographic Magazine, New York Times, The Guardian, The Washington Post, Wall Street Journal, Time Magazine, Forbes, Newsweek, NPR, BBC, CNN, Al Jazeera, South China Morning Post, The Straits Times, Bangkok Post, Sydney Morning Herald, The LA Times, Boston Globe, The Globe and Mail, Le Figaro, Le Monde, Der Spiegel, Stern, Berliner Zeitung, The Independent, The Telegraph, Gulf News, Libèration and various other publications.
Danish had been honored with various photojournalism awards in the USA, England, China, Hong Kong, India, etc.
On 16th July 2021, while documenting the Afghan Special Forces mission to retake the town of Spin Boldak, Afghanistan, near the Pakistan border, the Taliban captured him, shot him dead, and then brutally mutilated his body, including running a Humvee over him. His embed in such a highly volatile region has been a subject of intense discussions among journalists and media security experts. It has once again put the spotlight on journalist safety in conflict zones.
Danish's powerful images carried deep meanings which covered a broad spectrum of society and always created a lasting impression. Despite rising to great heights in the photojournalism field, he always chose to be in the area through perseverance and hard work, capturing the various perspectives of the agony and pain of the oppressed people in some of the most challenging locations in the world. His courage and boldness sent out a strong message of professional integrity to the fraternity and the world. 
Danish Siddiqui's valor and eminence will stay etched in history, and journalism will profoundly remember him forever through his pathbreaking photographs and contributions.
"He was a man with a magical eye and was rightly regarded as one of the foremost photojournalists of this era. If a picture can tell a thousand words, his photos were novels"
N.V. Ramana , Chief Justice of India
Reporters Sans Frontières (RSF), France
Stele of the Bayeux Reporters Memorial 2021
Overseas Press Club of America
Candle of Remembrance honoring Danish Siddiqui
Foreign Correspondents Club, HK
Exhibition Celebrating Danish Siddiqui's work
Mumbai Press Club, India
Photo Exhibition remembering the work of Danish Siddiqui
View Danish's Portfolio of Work