Can you share the story of how you discovered your passion for photography and what drove you to pursue it professionally?
Back in the late 70s and early 80s, my elder brother made waves as a Sports Photographer for the esteemed "Krirajogot" Magazine, the go-to sports publication in our country. His incredible work served as my early inspiration. Our dad, a dedicated government doctor, owned a trusty Yashica camera, which my other brother and I often borrowed to capture moments with family and friends.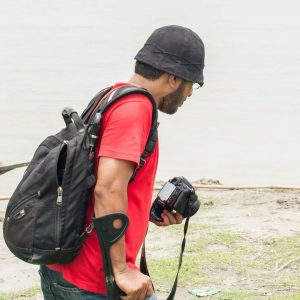 It wasn't until around 1990 that I started taking photos more regularly. Thanks to my brother's trips to Japan and the USA, I received several cameras as gifts. However, everything changed after the unfortunate accident I faced in 2009. It never quite materialized despite my efforts to pursue a career in print media and agencies.
Nevertheless, my passion for photography continued to burn bright. While I may not consider myself a professional, I wholeheartedly embrace the journey as an amateur photographer. Over the years, I have captured countless historical incidents and breathtaking scenes of Dhaka city. Unfortunately, in 2013, I faced a setback when my hard disk crashed, causing me to lose all those treasured images. Yet, I remain undeterred, clicking away and cherishing each moment I capture.
How did the incident during the "Pilkhana Tragedy" impact your life and your perspective on photography?
The Pilkhana tragedy shattered all my dreams, wreaking havoc on my career and family.
I was confined to a bed for three long years until 2012, when I sought treatment in Chennai. Enduring excruciating pain in my leg, the journey was arduous. From 2009 to 2014, I underwent seven major operations. Unfortunately, six of them were unsuccessful, leaving me plagued by misfortune.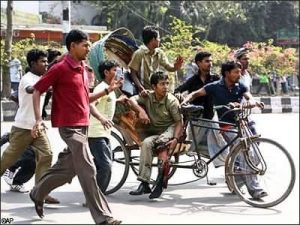 During my time in Chennai, I found solace in my small Sony digital camera, capturing numerous photos that hold special memories.
Upon resuming my regular office job in 2015, I borrowed my elder brother's camera (who had returned home in 2004) and began capturing photos sporadically. During those frustrating times, photography became my escape, allowing me to momentarily forget the pain in my leg and the mental struggles. In 2016-17, I even attended some photography workshops, which ignited a more profound passion for the craft.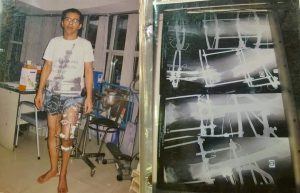 Unfortunately, I have never regained my workplace position, and in May of last year, I received a devastating "termination letter." My physical condition hinders me from attending the head office and performing tasks as before, further eroding my confidence and sanity in the corporate world.
Photography remains the only thing I can hold onto. Despite numerous attempts to find work in the NGO sector, agency, or print media, it's incredibly challenging to secure a job with my disabilities.
Despite the challenges and physical limitations you faced, how did you find the strength and determination to continue your photography journey?
Despite these challenges, I have never lost my passion. Since the 90s, I have never stepped out of my home without my camera, as capturing people's stories brings me immense joy and helps me forget my frustrations. In late 2017 and 2018, I embarked on a documentary project focused on a marginalized community, which is still ongoing. Between 2017 and 2021, I successfully completed the 365 projects twice, joining photo walks with over 100 young photographers and capturing countless photos of Dhaka city. I have also ventured outside of Dhaka city on several occasions, expanding my photographic horizons.
What motivated you to establish the 365 Photography Library and embark on this ambitious project?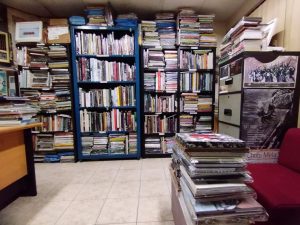 Our country lacks a photography archive and a public library dedicated to photography. While some photography institutions have libraries, they are often restricted to their members or students.
I embarked on this journey to create a library accessible to all, particularly young photographers who need to connect with photography books. I knew running such a library on my own would be challenging, but I never gave up. My sole purpose is to leave this legacy for the next generation of photographers before my time comes to an end.
Could you share some insights into the process of collecting over 2200 books on photography? How did you curate such an extensive collection?
I began my collection by personally acquiring books, catalogs, and magazines from renowned senior photographers and old bookstores. To my surprise and delight, over 100 photographers from all across Bangladesh sent me their own books or books from others. Many even visited my library in person, showing their support and generosity.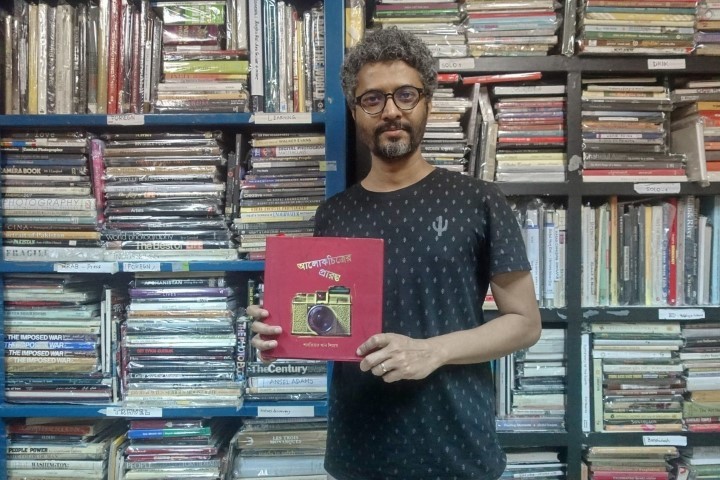 Last year, in June 2022, I received my first book from a Canadian photographer, Jeremy Fokens. His book documented his journey through Bangladesh and Nepal. Encouraged by this initial success, I started reaching out to world-famous and contemporary photographers and museums, galleries, and foundations, requesting free books for my library.
More than 75 individuals and organizations have sent me their books. The response has been overwhelming, and the momentum continues. Although my library is currently small, and I face financial constraints since losing my job in May 2022, I am grateful for the support I have received. Some photographers have personally assisted me, and three months ago, I reluctantly started offering memberships to sustain the library. Progress has been slow, but I remain hopeful that someday many more people will become members of my library.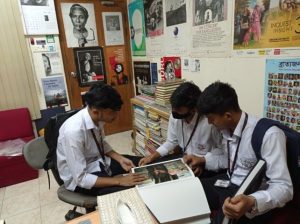 I also received a generous package from Steidl publisher, consisting of 19 books on photography and art weighing 27 kg. Additionally, I was delighted to receive four giant books showcasing the "Inside Out" project by the renowned graffiti photographer and activist JR.
I consider myself fortunate to have been granted the use of a room in my former workplace for the library. The company's owner has been kind enough to offer me this favor, and I also have two large bookshelves in the office to accommodate the growing collection.
What challenges did you face while setting up the library, and how did you overcome them?
The biggest challenge I faced was the uncertainty surrounding my job. I faced the risk of losing it twice in 2020-2021; ultimately, in May 2022, I lost it permanently. It was a difficult period for me, but I never lost hope because I knew I was honest and that integrity would guide me through.
There were moments when I was asked to vacate the room I was using for the library, not once but twice by the headquarters. However, I managed to overcome those situations somehow, and I am still in that position. But the reality remains that at any given time, I may be asked to leave, and the thought of where I would go with over 3,000 books is something that concerns me deeply.
Have you received any support or recognition from the local photography community or other organizations for your remarkable endeavor?
Although I received some support from local photographers in the past, it was mostly temporary and not enough to sustain my endeavors. Securing financial support from institutions has been difficult, as obtaining recognition in our country is often challenging. However, I remain hopeful that my work will be acknowledged and appreciated someday. I believe that with perseverance and unwavering dedication to my mission, the recognition I deserve will come my way. I will continue to pursue my passion for photography and the goal of creating a lasting impact through my library.
How has the younger generation in Bangladesh responded to the library? Have you noticed any positive changes in their interest in photography?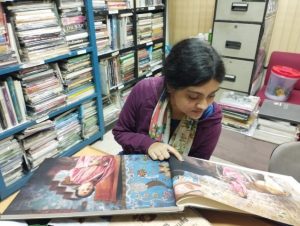 I am thrilled to see my library's impact on the young generation. It brings me immense joy when they visit the library to read and explore the collection, discovering the works of great photographers. Witnessing their enthusiasm and inspiration is truly rewarding. I have seen some of them take their passion to the next level, creating their own handmade books and dedicating more time to photography. It's not just the younger ones who have been influenced; even experienced photographers have found inspiration in my efforts and have started building their own photography book collections. Their journey and growth continue to inspire me every day.
Are there any specific photographers or photography books that have significantly impacted library visitors? Could you share some examples?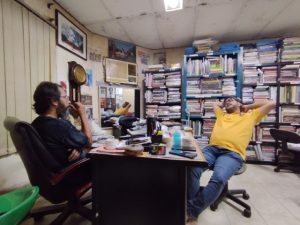 I feel incredibly fortunate and grateful for the support I've received from renowned photographers and esteemed organizations. It's truly inspiring to see how young photographers in Dhaka are drawn to the works of Magnum photographers and have a deep appreciation for the art of photojournalism.
I am proud of my collection, which includes books by legendary photographers like Sebastião Salgado, Raghu Rai, and Raghubir Singh. One of my prized possessions is a rare 1955 1st edition of "Family of Man" a truly special book that captivates everyone who sees it.
While there have been some challenges, such as not being able to pick up the Alex Webb books from Magnum Agency due to their office relocation, I remain optimistic that the situation will be resolved soon. In fact, recently Alex Webb personally agreed to donate his books in late June, which is a tremendous achievement for me.
Receiving four great books from Sebastião Salgado's studio and the generosity of photographers like Martin Parr, Reza Deghati, Susan Meisales, and Atwood, among others, have made this journey even more memorable and extraordinary.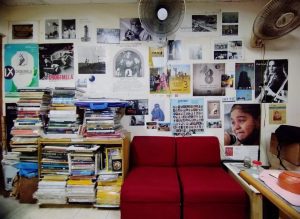 The list of contributors, including the Saul Leiter Foundation head Margit, Karsh Estate, Helmut Newton Foundation, British Royal Photography Society, and many more, showcases the incredible connections and support I've received.
These books hold a special place in the hearts of young photographers in Dhaka, and I am honored to be able to share them with the community. They inspire and educate, fostering a deep appreciation for photography as an art form and a powerful medium for storytelling.
How do you envision the library contributing to the preservation and promotion of photography history in Bangladesh?
I firmly believe that my library is a true treasure for the next generation of photographers and the entire photography community in our country. As the largest photography library in Bangladesh, it holds a wealth of knowledge and inspiration that will undoubtedly shape the future of photography.
My hope is that someday, someone or an institution will recognize the significance of this library and its invaluable collection. I trust that they will come forward with a genuine desire to preserve and protect it for generations to come.
It is my heartfelt wish that the importance of this library is acknowledged, not just for the books it houses but for the passion, dedication, and countless hours I have invested in building and maintaining it. May it continue to serve as a beacon of knowledge and inspiration, nurturing the talents and dreams of young photographers and leaving an indelible mark on the photography landscape of our country.
What message would you like to convey to aspiring photographers and enthusiasts who visit the 365 Photography Library?
Stay honest, have faith in yourself, and success will come, whether it's today or tomorrow. It's essential to know and appreciate the work of great photographers from our country and worldwide. Their contributions are invaluable; studying their work helps us grow and find inspiration. The journey of photography goes beyond capturing images; it involves exploring the artistic endeavors of those who came before us. We can find our path to success by staying true to these principles.
Disclaimer: The views and opinions expressed by those interviewed by the Danish Siddiqui Foundation, including all program participants, are solely their own current opinions regarding events and are based on their own perspectives and opinions. The views and opinions expressed do not necessarily reflect the views or opinions of the Danish Siddiqui Foundation, or the companies with which any program participants/interviewees are, or maybe, affiliated.